Raksha Bandhan is a special occasion that celebrates the bond of love and affection between brothers and sisters. It is a time to express gratitude and exchange gifts as a symbol of the cherished relationship. If you are looking for unique gift ideas for Raksha Bandhan, this article will provide you with a variety of options that are sure to impress your sibling. From personalized gifts to experiential surprises, let's explore 15 unique gifts ideas that will make this Raksha Bandhan truly memorable.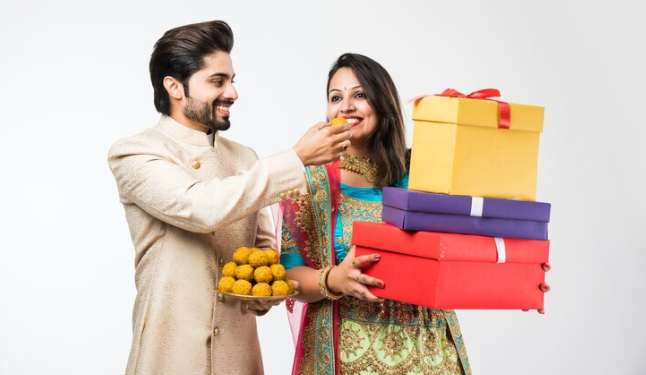 Introduction
Raksha Bandhan is a significant festival in India, celebrated with great enthusiasm. It is a day when siblings come together to honor their bond of love and protection. As a brother or sister, finding a unique gift that conveys your emotions and makes your sibling feel special can be a delightful challenge. In this article, we will explore a range of creative gift ideas for Raksha Bandhan that will leave a lasting impression.
1. Personalized Gifts
Personalized gifts add a touch of uniqueness and affection to this special occassion. Consider customized items such as photo frames, engraved jewelry, monogrammed accessories, or personalized artwork. These gifts reflect the effort you have put into selecting something exclusively for your sibling, making them feel truly cherished.
2. Handmade and DIY Presents
Handmade gifts have a personal touch . Consider creating a scrapbook of cherished memories, knitting a cozy scarf, or baking their favorite cookies. DIY presents not only showcase your creativity but also demonstrate the time and effort you have invested in crafting something special for your sibling.
3. Experiential Surprises
Gift experiences create memories that last a lifetime. Surprise your sibling with tickets to a concert, a weekend getaway, or an adventurous activity like skydiving or bungee jumping. Experiential gifts provide an opportunity to spend quality time together and create unforgettable moments.
4. Thoughtful Accessories
Accessories are always a popular choice when it comes to gifting. Consider unique accessories like personalized keychains, stylish watches, trendy wallets, or designer sunglasses. Choose items that align with your sibling's personality and interests to make the gift more meaningful.
5. Fitness and Wellness Gifts
In today's health-conscious world, fitness and wellness gifts are gaining popularity. Opt for items like fitness trackers, yoga mats, smart water bottles, or subscriptions to wellness apps. These gifts not only promote a healthy lifestyle but also show your concern for your sibling's well-being.
6. Tech Gadgets
For the tech-savvy sibling, consider gifting the latest gadgets or accessories. This could include smartphones, wireless earphones, portable chargers, or smart home devices. Stay updated with the latest technology trends and surprise your sibling with a gadget they've been eyeing.
7. Books and Journals
If your sibling is an avid reader or loves writing, books and journals make excellent gifts. Select genres they enjoy or choose motivational books and guided journals that inspire personal growth. Books have the power to ignite imagination and provide a window into new worlds.
8. Home Décor Items
Home décor gifts are ideal for siblings who take pride in creating a beautiful living space. Consider decorative items like scented candles, personalized wall art, cozy throw blankets, or unique planters. These gifts add a touch of warmth and style to their home.
9. Subscription Boxes
Subscription boxes are a unique and convenient gifting option. Choose from a wide range of options such as beauty boxes, gourmet food boxes, book subscriptions, or hobby-specific boxes. Your sibling will receive curated surprises delivered to their doorstep, creating excitement month after month.
10. Outdoor Adventure Gear
If your sibling loves outdoor activities, adventure gear can be an exciting gift. Think hiking gear, camping essentials, or sports equipment tailored to their interests. These gifts inspire exploration and fuel their passion for outdoor adventures.
11. Musical Instruments
For the musically inclined sibling, consider gifting a musical instrument they have always wanted to learn or upgrade. Whether it's a guitar, piano, or a set of drums, this gift will encourage their artistic pursuits and provide them with endless hours of joy.
12. Fashion and Apparel
Fashion and apparel gifts are always in style. Choose trendy clothing items, fashion accessories, or personalized apparel that align with your sibling's fashion preferences. Stay up-to-date with the latest fashion trends and surprise them with something that complements their style.
13. Kitchen and Cooking Essentials
If your sibling enjoys cooking or is a food enthusiast, kitchen and cooking essentials make practical and thoughtful gifts. Consider high-quality cookware, unique kitchen gadgets, or specialty ingredients that will enhance their culinary adventures.
14. Unique Gift Boxes
Create a customized gift box by combining a variety of small, meaningful presents. Include items like their favorite snacks, personalized mugs, scented candles, or quirky stationery. The assortment of surprises in a gift box adds an element of excitement and discovery.
15. Conclusion
Raksha Bandhan is a occassion to celebrate the beautiful bond between siblings. Hope you like the above given 15 unique gift ideas for Raksha Bandhan By choosing a unique and thoughtful gift, you can convey your love and appreciation for your sibling in a special way. Whether it's a personalized item, an experiential surprise, or a handcrafted present, the key is to select something that reflects their interests and shows that you truly value their presence in your life.
FAQs
How do I choose the perfect Raksha Bandhan gift?

Consider your sibling's interests, hobbies, and preferences.
Look for personalized or unique items that hold sentimental value.
Think about gifts that create experiences and lasting memories.

Are handmade gifts a good option for Raksha Bandhan?

Yes, handmade gifts add a personal touch and show your effort and creativity.
They can be more meaningful and cherished by your sibling.

What if I am on a tight budget for Raksha Bandhan gifts?

Focus on thoughtful gestures rather than expensive gifts.
DIY presents, heartfelt letters, or spending quality time together can be equally valuable.

Can I give a Raksha Bandhan gift that promotes wellness?

Absolutely! Fitness trackers, wellness subscriptions, or yoga accessories are great choices.
Show your concern for your sibling's well-being and encourage a healthy lifestyle.

How can I make Raksha Bandhan memorable for my sibling?

Plan a surprise outing, organize a virtual celebration, or create a personalized video or photo collage.
The key is to make them feel loved and appreciated in a unique way.

Where can I find unique gift ideas for Raksha Bandhan?

Explore online gift stores
Click here https://onlinerakhishop.com/category/blog/ to read more interesting articles on raksha bandhan.